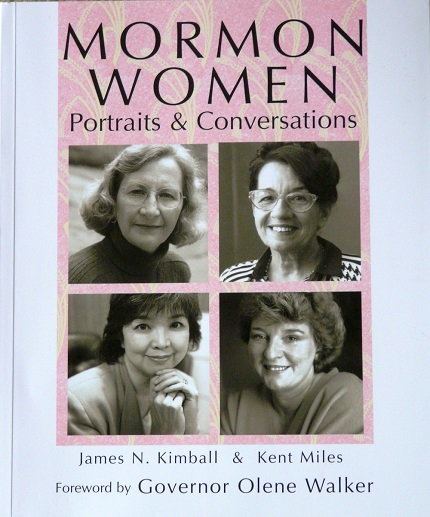 Mormon Women, Portraits & Conversations has an intriguing cover, its black-and-white photographic portraits hinting at the diversity of the 14 LDS women whose stories are told inside. The collaborative interview project by the late James N. Kimball and photographer Kent Miles took the two all over the world.
While the authors' desire to present a global perspective and highlight some less well-known LDS women is admirable, the first-person narratives are uneven, in length and in quality (perhaps in some cases because of the necessity of translation). Some simply restate facts of the speakers' upbringing and conversion to the Church, while others offer compelling narrative and thoughtful insights about their experience as LDS women. Essays range in length from a handful of pages to more than 20; some, but not all, were updated a decade after the original 1997/98 interviews.
The voices that resonated with me: English humanitarian Carol Gray's heart and humor as she tells of taking aid to the Balkans; historian and Harvard professor Laurel Thatcher Ulrich's struggles with being accepted as a woman in a man's world when feminism was just taking hold in the U.S.; Utah Supreme Court Judge Christine Durham's reminiscences of how she, her husband, and kids made it all work; and the prose of Utah poet Emma Lou Thayne, whose zest for life as well as the written word has long inspired me. She nails it when she says,"[M]ost Mormon women exist in a web, a labyrinth of expectations."
No doubt other readers will find that some of the other voices speak to them. (It's fitting that the authors engaged Utah's first woman governor, Olene S. Walker, to write the foreword.) I love this profound thought from nurse/public health administrator Catherine M. Stokes: "If I believe I am the daughter of the power that created the universe, I have more power than I will ever be able to use."
The project faltered when Kimball was diagnosed with terminal brain cancer in 2003, but the Handcart Press softcover edition, finally published in 2009, is available online and at Utah Costco stores ($18.95, 227 pages).
Those interested in the subject may want to have a look at some of these other books by and about Mormon women which have a place in my personal library:
Mormon Women Speak, essays compiled by Mary Lythgoe Bradford, Olympus Publishing 1982;
Women's Voices: An Untold History of the Latter-day Saints, 1830-1900, by Kenneth W. Godfrey, Audrey M. Godfrey, and Jill Mulvay Derr, Deseret Book 1983;
Mormon Enigma: Emma Hale Smith, by Linda K. Newell and Valeen Tippetts Avery, published by Doubleday in 1984;
Mormon Sisters: Women in Early Utah, edited by Claudia L. Bushman, Utah State University Press 1976;
Worth their Salt, Too—More Notable but Often Unnoted Women of Utah, edited by Colleen Whitney, Utah State University Press 2000; and
Women of Faith in the Latter Days, a thick collection edited by Richard Turley and Brittany A. Chapman and published by Deseret Book in 2011.