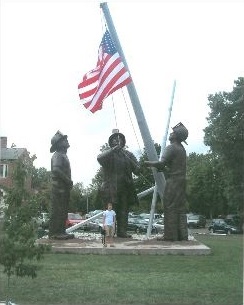 To Lift a Nation
, Stan Watts's tribute to the firemen of 9/11. The bronze casting of the three firemen raising the flag amidst the rubble, stands in the National Firefighters Memorial Park, Emmitsburg, MD. Compare size to the man standing in front.
Stan Watts (b. 1961) is a Utah sculptor in mid-career who infuses all his figures with a deep spirituality, whether the subjects be religious or secular.
His work ranges from his depiction of The Good Samaritan in the Church's huge Humanitarian Center southwest of the Salt Lake City Airport to the three towering figures of firemen raising the American Flag in the ruble of the World Trade Center. These stand in the National Fallen Firefighters Memorial Park in Emmitsburg, MD. Stan has a powerful testimony that his talent is a divine gift that must be used to uplift and edify. I have heard him bear witness many times to what he is trying to do and why, and his determination is as strong as the bronze in his statues.
His secular subjects have included To Lift a Nation, the three firefighters in Maryland; French Freedom Fighters, a bronze of two French soldiers in World War II, commissioned by a French client and installed in Colmar, France; On a Firm Foundation, equestrian statue of George Washington, Freedom's Foundation, Valley Forge; Fred Adams, founder of the Utah Shakespeare Festival, Cedar City; and many of America's founding fathers, as well as several important Lincoln depictions.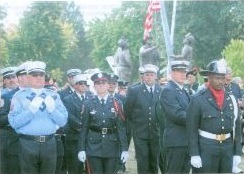 A few of the hundreds of firefighters from all over the country who assembled for the dedication of the monument, seen in the background, on Nov. 5, 2007
He has sculpted Church figures: Brigham Young, Heber C. Kimball, and Willard Richards, three 1 1/4 life-size bronzes, Council Bluffs; Mary Fielding Smith, This is the Place State Park, Salt Lake City; and the baptismal font oxen in the Brigham City Temple. Probably the most familiar would be his bronzes of Joseph and Hyrum together on horseback.
This is only a sampling, not a complete list.
I have been privileged to see many of his works while they were being created. The firemen average more than 20 feet in height. I watched parts of them being cast in bronze before being welded together, burnished, and hauled across the country in big rigs for installation.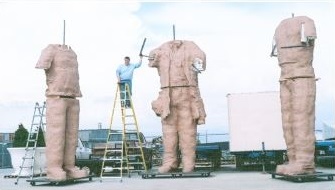 Assembling the full-scale clay models for
To Lift a Nation
. Sculptor Stan Watts is on the stepladder.
Sculpted figures may require many hands before they are completed. Big figures often start out as tiny tots only a few inches tall. Done in clay, they are the first maquette or model. At this point it does not make much difference if the figures look like the real people or not. The maquette serves to give an idea of proportions, of orientation, of arrangement, of general character.
But once the initial maquette gives way to something bigger, a sculptor who bases a statue on a two-dimensional picture faces a heap of problems. It is easier to model and interpret from full-round subjects seen directly in the artist's eyes. If he is working from a picture, he sees only one flat side of the subject. He either has to guess what the person, animal, or object looks like from other angles or solve his problem another way. In some cases it may not matter if the artist uses his imagination. But if he is portraying real people, then he must be wary.
Historic figures can present difficult problems. Paintings of Washington, Jefferson, Franklin, and Adams are flat depictions, even when skilled painters given them apparent depth. Sculptors look to death masks, casts of hands, and other three-dimensional objects, such as clothing, instruments, weapons, and the detritus of history which may help in the depiction of the subject, his clothing, and his equipment.
In the case of Abraham Lincoln, he was painted and photographed many times. Later sculptors and painters have not had to rely on earlier two-dimensional representations.
In Watts's depictions of Lincoln, he has not intended to imitate photographic-style images. These would be precious and could border on sentimentality. In painting, this kind of preoccupation can degenerate into what I call calendar art. While Watts strives to be accurate, he is very much concerned with capturing the strength and the character of his subjects. I think he does this very, very well.
[A telling comment when an artist relies entirely on a photograph: It is the practice of the United States Senate to commemorate every Senate Majority Leader after his service with an oil portrait to hang in the Capitol. The going rate for this a few years ago was $125,000 paid to the artist. Now it may be twice as much. The artist who painted a recent majority leader–whom I decline to identify–based his portrait on a photograph. The senator never met the artist, never posed for the picture. The portrait is, in the eyes of other senators, simply atrocious.]
Watts learned from his mentor--the late, great figurative sculptor Avard Fairbanks, the first head of the School of Fine Arts at the University of Utah and a professor of anatomy in the medical school--the importance of anatomical accuracy.
Taking advantage of many sketches, photographs, and artifacts of his subjects, Watts makes maquettes modeled in clay. These models require full details and accuracy, as if they were to be cast in bronze.
The massive use of clay comes next, with the creation of the full-size statue.Once Watts completes the clay modeling to his satisfaction, casting molds are made of various parts.
Not every casting attempt succeeds on first try and must be repeated until the result is perfect. Casting bronze is hard, very hot work, potentially dangerous. Each piece is poured by hand. The metal must be heated over gas retorts to reach its liquid, pourable state. If bronze ingots are not properly preheated before being added to the caldron of molten metal, they can cause a dangerous spattering. Watts and his foundrymen wear heavy gloves, goggles, and heat-shielding coats and pants similar to those worn by firefighters.
Successful castings then must be tediously and precisely welded together. Weld seams and other marks on the bronze assemblies must be buffed laboriously away.
The final task, again another one requiring care and precision, is to give the figure a final patina, not only to impart to the figure the particular bronze coloration the artist wants but also to give the monument surface protection in an outdoor destination.
From birth, some people are destined to become very good artists. I have known many of them personally. They came from America, France, and Taiwan. They could manage a pencil or crayon adroitly almost before they could talk. Visual art was in their genes. Others, of course, discovered their artistic destiny at later ages. Stan Watts comes from the former group. He cannot remember a time when he did not want to be an artist. He preferred sketching pictures of his friends to indulging in the usual childhood games. Although he was drawing figures at an early age, he did not realize until a little later that his greatest gift lay in sculpting in the round, creating objects in three dimensions, although that realization did not manifest itself on his first plunge into sculpture. Attending Utah State University on an art scholarship, he flunked a sculpting class.
From a good teacher in a Salt Lake City high school he was taught principles of classic art and design. He won awards and then an art scholarship to the university. An A student, he studied ceramics.
Watts did not return to school for his sophomore year. His father had a business painting service stations. Stan went to work in the family business and stayed on even after his father was killed in a scaffolding fall. Stan had a brother, Brad, a jeweler who occasionally worked in cast metal. One of Brad's clients wanted him to do a Moses figure. Brad, who remembered that Stan had once done a sculpture in high school, turned to his brother. Stan had not actually done any finished sculpture since the one in high school, but he must have learned something in that flunked course at Utah State.
After doing some sketches for the Moses statue, Watts realized his need for help, and he drove out to the Salt Lake City airport and knocked on the door of an old military barracks where Avard Fairbanks (1897-1987) had set up his studio.
After a distinguished academic and creative career in Oregon, Michigan, and Utah (not to mention Italy), Fairbanks had retired from teaching and administration to concentrate his remaining years on his creative projects. In his lifetime he had done scores of major monuments, including memorial pieces in Statuary Hall in the United States Capitol, many Lincoln pieces in Washington, DC and Illinois, pioneer depictions in Iowa and Utah, memorials in Gettysburg, and a long list (which I have compiled) of others. He had done uncounted smaller pieces, too, including the Dodge Ram (it was his suggestion made to Chrysler), medals, and memorial plaques.
As reported by Doug Robinson in the Deseret Morning News, 11 Sept. 2006:
"What do you want," Fairbanks asked.
"I want to learn to be a sculptor," Watts replied.
"Do what I did and go to college," said Fairbanks and, just as he started to close the door, Watts blocked it with his foot.
"I would, but you're not teaching there anymore," said Watts.
"They wouldn't teach you correctly anyway," said Fairbanks, inviting him inside.
Fairbanks was not looking for students or apprentices, but there was something about young Watts's enthusiasm and determination that won him over, and Watts became, in Stan's words, Fairbanks's last student. It was a heady relationship. Avard had much to teach; Stan had lots to learn, and the schooling was deep, concentrated, fruitful, and speedy.
As Robinson reported, Watts asked Avard to critique his drawing of a bust of Moses and then saw that Fairbanks had pinned his own sketch of Moses on a wall. It looked much like his own drawing, and he pointed this out to his new mentor.
Recalls Watts, "I thought I would get some big reaction–they were identical, and I had done my drawing out of my head–but all he said was, 'Truth is truth.'"
Watts began working in a foundry, and sometimes Fairbanks came there to cast his own work, which gave his acolyte more opportunities for learning. Again as Robinson reported:
One night after work at the foundry, Watts was working on a statue of Ernest Hemingway posing with a lion he had killed. Fairbanks approached the work and asked Watts, "Is this an African or Indian Lion? Do you mind if I straighten his anatomy? You need to know this," he said, and then, writing on butcher paper, Fairbanks proceeded to give Watts a two-hour lesson in anatomy.
"I just gave you all the knowledge you would have got in college," Fairbanks said. Recalls Watts, "Then he looked me in the eye and said, 'The last thing you need to know is the power and responsibility of what you're doing.' . . . He was saying, be responsible with your ability to transcend time and the purpose of your ability, which is to give hope and faith and to lift man to be the best he can be."
Success did not come immediately to young Watts. There were bleak times. He married his boss's sister, had children, quit his job to devote himself exclusively to sculpture, and struggled. At 31 he turned his life around, and by the time he was 34 he lived in his own home and owned his own company. His abilities were recognized, and he was compiling an impressive list of completed figures and monuments. His studio is filled with other projects in process, of many new ideas, of many new dreams, befitting a gifted sculptor whose mind and hands are never at rest.
President Bush spoke at the dedication of the the National Fallen Firefighters Memorial in Emmitsburg and saw
To Lift a Nation
a few days before its dedication.