I have written before, briefly, about my friend Mathieu Matégot, the great creator and innovator of modern, hand-woven French tapestries. In December, my wife and I unveiled the permanent hanging in Salt Lake City of the Lawrence and Frances Jeppson Collection of tapestries, which may be the largest in the United States. It is far superior to anything hanging in any American museum.
The collection has never been hung together before. Since about 20 of them are by Matégot, he has been on my mind, causing me to reflect on the 43 years of our close friendship.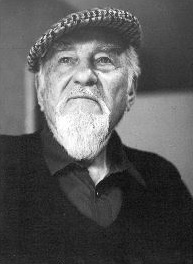 Mathieu Matégot (1910-2001) in later years.
After an early career as a painter and interior designer, Matégot (1910-2001) returned to the Paris art scene from German prisoner of war camps in 1945 to become part of the astonishing rebirth of ancient handwoven tapestry in 20th-century terms. Until his arrival, the rebirth started by Jean Lurçat, François Tabard, and others during the Occupation was completely figurative.
Although Matégot's first cartoons were also fairly representational, he began introducing nonfiguration to the artform, and by 1947 he had succeeded in swinging many tapestry artists to a new and exciting direction. Besides introducing abstraction, he rediscovered lost medieval techniques, adapted them, and added new techniques and ideas, in collaboration with his master weavers. Today there probably is not a tapestry artist anywhere in the world who does not carry Matégot's influence, whether realized or not. Even the simple--and now ubiquitous--procedure of winding different colored yarns on the same weaving bobbin was his innovation.
Despite being abstractions, many of Matégot's tapestries have echoes of real images.
Writing in the huge book Great Tapestries: the Web of History from the 12th to 20th Century, Adolph Hoffmeister, Director of the History of Art, Prague, and editor of the section on contemporary tapestry, writes, Matégot's "works are abstract, but not dried-up or intellectual like many other abstracts. On the contrary, his lines of force and the daring balances achieved, his unexpected colour effects, and the interplay of light and shade, all give a dramatic intensity to those woven mirages which are his tapestries."
His tapestries have been notable for more than technical innovation. He combined an uncommon sense of color with a dynamic compositional tension, which he exploited through the medium of wool and the peculiar demands of the loom. These same gifts manifest themselves in his other art, for Matégot was equally brilliant in the more intimate artform of original silkscreen prints on paper. He also received notable notoriety as a designer of AvantGarde furniture.
Andre Parinaud, editor and publisher of an influential Paris art magazine, wrote, in Matégot the Magnificent, "Mathieu Matégot is for me one of the great orchestra conductors of living art, as it is created, one of those who teaches us a new fashion of deciphering the geometry of the forms of the universe, a new intellectual game. Tapestry [and his graphic art] has become, with him, not only a major art capable of totally satisfying our contemplation, but a trump card in the development of our intelligence of the world – of this world in expansion, this world of infinite possibilities as it is revealed to us by the equations of the scientists – and of which he communicates to us the sensitive images, truer than the reality of appearances. An exhibition by Mathieu Matégot always carries me to the frontiers of illogical surprise and rational seriousness. I sense myself in a wide-awake state, hungry to be astonished. I only hope that many of my contemporaries will rediscover, thanks to Matégot the Magnificent, this well of. . . deep lucidity."
Whether creating tapestry or graphic arts, Matégot always saw an intimate collaboration: between artist and weaver for tapestry, and between artist and printmaker with graphic arts, each bringing to the task ultimate skill and sensitivity.
Matégot was always fascinated by space, flight, and stars, perhaps because he spent so much time in the air flying from continent to continent filling commissions and participating in museum and gallery exhibitions. One of his most complicated tapestries is his Man's First Step, which conveys the colors and textures of moon rocks and terrain. While not colorful in a rainbow sense, it conveys, said Douglas Collins, an astronaut who was there, the true spirit of the place. The large tapestry belongs to the National Air and Space Museum, Smithsonian Institution.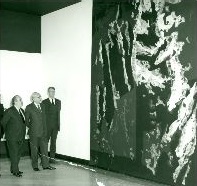 Matégot and officials from the National Air and Space Museum, Washington, DC, at the unveiling of the cartoon for
Man's First Step
commemorating the moon landing. Matégot would pay the prodigious cost of weaving out of his own picket, his gift to America. The gift of the tapestry was arranged by Henry Luce, Jr., publisher of
Time
magazine.
The large tapestry was a gift from the artist to America, honoring his love for the United States. His mother was buried in America, and he had sisters in New York and New Jersey. He not only created it but paid out of his own pocket the prodigious cost of weaving. For the first six years it hung opposite the Lunar Module on the ground floor of the museum. Later, in France, it was hung in the great Matégot retrospective in the Angers Museum, an event I attended, accompanied by the artist, as a guest of the mayor.
Another important piece hangs in the Departmental Prefecture in Rouen, France. Woven in one piece, it covers over 100 square yards of wall and is, I believe, the greatest piece of tapestry art of the 20th century. Despite its size it does not overwhelm the reception room it graces. Evoked in the design is an interplay of the gothic interior arches of the Rouen cathedral, which so attracted Claude Monet, and the river cranes of the city's busy port.
Matégot has said, in a Manifesto written before man got to the moon, "I believe that the epoch in which we live, the epoch of Einstein and Werner Von Braun, has mortally influenced the creative expression and conditions of life. I believe also that each day the savants perch on the brink of problems which seem outside of our time and achieve the unbelievable and unforeseeable. Why should anyone wish to copy nature when we have it incessantly in front of us? Moreover the great change that architecture and decoration have undergone obliges us to live in a stripped and more restrained hive. Tapestry, then, opens new horizons, wide perspectives in which the spirit of man can find his personal ideal, his poetry, and satisfy the desire to escape which each of us so deeply needs."
I was there when he made the declaration to a group in Chicago in conjunction with his one-man exposition in the Astor Tower French Cultural Center sponsored by the famous Chicago architect Bertrand Goldberg, who created Marina City. The exhibition brought a full-page review in the Chicago Sun Times.
Matégot was born in 1910 in Tapio-Sully, Hungary of a land-owning family that generations earlier had French roots. His mother was Belgian. After studying art in Budapest, in 1931 he moved to Paris to continue his art studies. Prior to the outbreak of World War II he volunteered for the French military and after the war become a French citizen.
During the bleak days of World War II, the clandestine creation of handwoven tapestries in an obscure French village launched a renaissance of this once-noble artform. For centuries the village of Aubusson had been one of Europe's most important centers for handwoven tapestries, but as art its products had become repetitive and lamentable.
Located in unoccupied Vichy France, Aubusson became a gathering place for artists fleeing the Nazis. Several began adapting their artistic visions to the disciplines of the loom and the skills of the weavers. They launched what became one of France's greatest 20th-century contributions to the world of art.
Matégot was not one of these artists.
Lead by Jean Lurçat, all the Aubusson artists produced figurative tapestries. When Matégot took to tapestries soon after being liberated from his last German prisoner-of-war camp, he broke the mold and introduced abstraction to the art. He became one of the art's most influential leaders.
During these early tapestry years he also did interior design. He was entrusted by the Jeu de Paume museum in Paris to rehang its famous second-floor collection of Impressionists. He devised a scheme to turn the walls themselves into the frames, making the paintings seem like windows in the wall. This lasted for several decades, until the collection outgrew the walls – and eventually was transferred to the Museé d'Orsay.
In 1963 the usually stuffy and conservative state museums in Germany arranged a one-man circulating collection. The show broke attendance records in Munich, Bremen, and Hamburg. In Hamburg the Germans made a particularly effusive fuss over him. He was honored by the mayor and all manner of festivities. To date, that was Matégot's biggest triumph – and his biggest irony.
Enlisted in the French army, he was taken prisoner by the Germans. Although he escaped twice, he was recaptured. He was sent to a labor camp in Hamburg. In bitter winter cold he was obliged to wash the outside of the windows of the Hamburg Museum. He was never permitted to enter it – until he came back as a conquering hero, thanks to his art, to be toasted and lionized by his erstwhile masters, who never were told of his forced-labor servitude with the museum that honored him.
In 1965 his magnificent tapestry Rouen was unveiled in the departmental capitol in Rouen, France. He then produced four tapestries for the National Literary in Canberra, Australia. He had many other important commissions.
His magnificent tapestry Piège de Lumière/Shaft of Light won the gold medal of the Milan, Italy Twelfth Triennial. Held every three years, the Triennial is one of the world's most important manifestations. I am pleased that two of the six permitted weavings of this beautiful tapestry are to be found not just in the United States but in Utah. One belongs to the Museum of Art, Brigham Young University, Provo, a gift of Milton and Gloria Barlow. The other, which was last exhibited in the big Matégot retrospective in Angers, is part of the Lawrence and Frances Jeppson Collection on permanent display at the Utah Choral Artists building in Salt Lake City.
Matégot has been the subject of hundreds of group and one-man exhibitions, including dozens of them in the United States. In October of 1987 he was honored by a retrospective in the Salon d'Automne, France's most important annual art manifestation.
Then the Department of Seine-Maritime (Rouen) awarded him its Gold Medal for a lifetime of artistic achievement.
At the same time, a book, Le Style 50, Un Moment de l'Art Français by Patrick Favardin, was published about a French style of interior design viewed to be as significant as the earlier Art Nouveau period. Matégot was lauded for his contributions as a furniture and accessories designer – "From 1949 he designed a great many furnishings utilizing perforated metal with an unequaled mastery and elegance. The quality of its production and its originality made Matégot one of the precursors of contemporary design" – thus acknowledging still another achievement in his versatile career.
His last work before his eyesight failed was Visions of Space, 30 gouache maquettes which I commissioned. They are models for silkscreen prints and ultimately full-scale tapestries. Alas, only a few of these have been finished.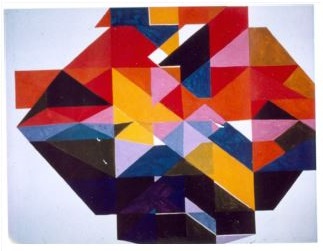 This illustrates the original gouache
maquette
from which the artist – in collaboration with silkscreen printer Lou Stovall and publisher Lawrence Jeppson, together in Stovall's studio, The Workshop, Washington, DC – created the final original, limited-edition, hand-printed serigraph. The serigraph and the other four prints produced at the same time, are in the permanent collections of a number of museums.
Then Matégot, working with the Micheline Henry Atelier in Aubusson, France, enlarged and adapted the serigraph to the exigencies of the loom and produced the much larger handwoven tapestry of the same name. The tapestry is part of the Lawrence and Frances Jeppson Collection on permanent exhibit at the Salt Lake Choral Artists headquarters in Salt Lake City.
For more than 43 years Mathieu Matégot was one of my closest friends. We were often together in Paris, Washington, and New York. For many years he lived in a house on the corner of a small Paris dead-end street peopled by other notables, including artists Jean Lurçat, Nat Leeb, and Mario Prassinos, and writer Henry Miller. Then Matégot build an ultra-modern house in the forest of Fontainebleau. It was a beautiful place built on several levels to take advantage of the uneven terrain. He and his wife were very happy there, but the house had so much glass that the utility bills ultimately drained him.
We went together to Aubusson, where I met François Tabard and his weavers. I will never forget an evening stroll along the newly opened River Walk in San Antonio and a marvelous Mexican dinner, or a dinner at a Chicago steak house where his steak was so big he referred to it as a whole beef. He took me to Rouen, France for my first vision of that great tapestry. In 1985 we went to Limoges, France for the auction breakup of the great Aubusson weaving house of Tabard, which had been father-to-son since 1637, but was now gone because there were no more Tabards.
At different times I introduced him to Church members in Maryland, Virginia, California, and Texas. Near the end of 1999, old, blind, enfeebled, he came to Maryland with his son Patrice, also a cartonnier, because he wanted to see me again, a last time. I held a small reception for him with Church friends he knew. The next day, almost in tears before we parted, he said, "Lawrence, if I were younger, I'd join your church. The people are so good."
Six months later Frances and I surprised him in Paris, where he lived in a small apartment arranged for him by President Chirac. He had been made a Commander in the Order of Arts and Letters, France's highest civilian honor. Normally an important official would perform the bestowing ceremony. Matégot, 90, had not allowed this.
With barely enough strength to sit on the edge of his bed, he brought out a long, thin box containing his heavy gold medal and its ribbon. "I have been keeping this until my friend Lawrence could be the one to hang it around my neck." I did, tying the ribbon and trying to hold back tears and knowing this would be our last goodbye.