One of my favorites though the years is a live Easter basket. It takes about a week for the grass to grow, but it is a great project to do with kids or grandkids.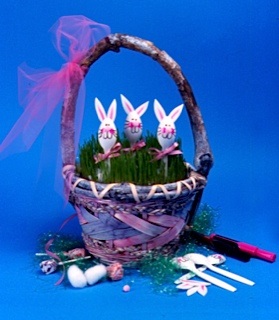 A live Easter basket with Spoon Bunnies is a great project to do with the kids or grandkids.
You will need:
Line the inside of your basket with plastic and leave at least 6" of excess all the way around. Fill the basket to within an inch of the top with potting soil and pat the soil down firmly. Sprinkle the surface generously with seed, and cover lightly (1/4" to ½") with potting soil.
Water well, making sure all the seeds are moistened. Pull the excess plastic over the top of the soil to preserve moisture. Set the basket in a warm, sunny spot. In two to three days, the seeds will start to sprout, and within a week to ten days, you will have grass.
Decorate the basket with a bow and colored eggs. Add a Spoon Bunny to the basket. The grass will grow rapidly. Trim with scissors. Use the trimmed grass in sandwiches or salads.
Spoon Bunnies
Tuck these delightful bunnies into your live Easter basket.
6 white plastic spoons

red and black puff paints or permanent markers

1 yard heavy black thread

glue

6 tiny pink pompoms

1 (8-1/2" X 11") rectangle white felt

1 (8-1/2" X 11") rectangle pink felt

6 round suckers (smaller than the spoons)

3 yards pastel ribbon

6 small white pompoms or cotton balls
Paint eyes, mouth, and cheeks on the back of each spoon. Let dry. Tie three 1-1/2" strands of heavy black thread together in the middle and glue above the mouth for whiskers.
Glue pink pompom nose above the whiskers. Cut ears out of the white felt, and cut smaller inside ears out of pink felt. Glue small pink ears on larger white ears, and glue to back of head.
Place a sucker in the spoon and tie ribbon around the neck. Glue a small white pompom or cotton ball tail on the sucker stick.
Dian Thomas's Library: You will never run out of ideas when you have this wonderful set of books. Check out Dian Thomas' Creative Books Library Special: She now has a special offer to save 60% on 5 books and 1 DVD. Get Dian's creative library for only $40.00. Save $60 and have more than 25 years of her creative and amazing ideas. This package will be great for gifts, for fun, and for kids and grandchildren. Take advantage of this limited offer at www.DianThomas.com.
Dian's Book Tipping the Scales in Your Favor shares her weight loss journey. For years Dian's tried and tried to lose weight, but it was not until Jackie Keller said to her in California, "I can help you lose weight," that she caught the vision and lost more than 115 pounds and, most important, she has been able to keep it off. Get Dian's book today and begin the journey to healthy living. Go to www.DianThomas.com to learn more.
What to travel with Dian? Join one of her trips to China, where you will enjoy a cultural feast and fun adventure. Email Dian at Contact@DianThomas.com or call 801-277-4332 for more information.