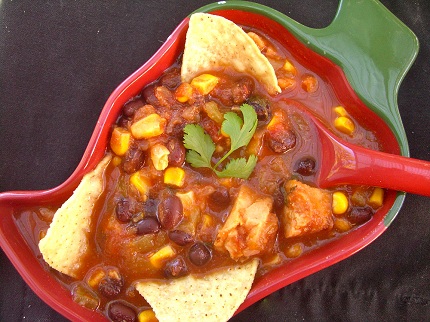 With cool days and cold nights ahead the perfect thing to warm you up during the winter months is soup. Valerie Phillips, a very good friend has put here creative juice together and now has a wonderful book just on entitle, Soups' On!
We've all heard how important family mealtime is. Soup are one of the easiest item for dinner. Also with such varied schedule it something that you can keep warm on the back burner or in the crock-pot.
Beside the wonderful recipes my top 10 from here list of suggestion in the back of the book.
Organize your cupboards and pantry so you know where ingredients are. I just finished this and it makes such a big difference. I also like to date mark an item on the side of it if there is an expiration date. I like to put the date in a place where it is easy to see when I glance through the pantry.

Stock-up on timesaving convenience items when they're on sale, such as canned beans, jarred salsa, or dried minced onion.

Invest in a good, sharp chef's knife and a cutting board big enough to hold the food but small enough to fit in the dishwasher. They make the chore of chopping so much easier.

Use leftovers as "planned-over's." If there are meat or veggies at the end of a meal that can be used in tomorrow's soup, dice them up before you store them in the fridge so they are ready to go.

Grow your favorite herbs year-round in your kitchen window. It's convenient to be able to cut a few sprigs as needed, and packets of fresh herbs can be costly at the store.

Dried beans, per cooked serving, are often less than half the price of canned beans, but they do take time to cook. Soak a batch overnight in your slow cooker on low heat, then portion and freeze for later use. One fifteen-ounce can of rinsed and drained beans is about one and one-third cups.

Post a "must use" list on the fridge of leftover items like cooked chicken, or the half can of beans or tomato paste so you can incorporate them into meals.

Pack leftover soups for lunch the next day instead of eating out.

Serve soups in smaller bowls. Studies show that when people are served on larger plates, they take larger helpings, whether they're really hungry or not. If the first bowl didn't satisfy, they can always go back for seconds.

Every time you make a batch of soup, freeze one portion in the single-serve, microwavable container and label it clearly. Great for lunches or when you do not have time to fix a meal.
The book's huge variety of recipes includes Quick Tailgate Chili, Roasted Garlic Bisque, Minestrone, Root Beer Braised Beef Stew, Quick Tortilla Soup with Avocado, Turkey Pot Pie Soup, Lobster Bisque, Creamy Tomato Tortellini Soup, Rosemary Potato & Corn Chowder, Thai-Style Peanut and Noodle Soup, and many more. Most of the ingredients are commonly found in any pantry.
Look for Valerie's Book at all LDS Stores or on Amazon.
Dian's has been sharing her creative ideas for over 30 years in books, on TV and in speeches. She now had a special offer to save 60% on 5 books and 1 DVD. Get Dian's creative library for only $40.00. Save $60 dollar and have over 25 years of her creative and amazing ideas. This package will be great for gifts, for fun, and for kids and grandchildren. You will never run out of ideas when you have this wonderful set of books. Take advantage of this limited offer at www.DianThomas.com.
Dian's Book Tipping the Scales in Your Favor shares her weight loss journey. For years Dian's tried and tried to lose weight but it was not until Jackie Keller said to her in California, "I can help you lose weight" that she caught the vision and lost over 115 pounds and most important she has been able to keep it off. Get Dian's book today and begin the journey to healthy living. Go to www.DianThomas.com to learn more.