A painter's most valuable asset is his artistic reputation. It determines how much he sells and at what prices.
The intelligent artist guards his reputation like the gold in Fort Knox. He ruthlessly destroys his failures. He refuses to do things that are against his judgment. But sometimes even the most fastidious get trapped, as Robert Lapoujade found out.
Lapoujade (1921-1993) was a painter's painter and a revolutionary filmmaker. Serious painters in Europe regarded him with reverential admiration. Yet they do not imitate. He painted people, fables, landscapes, and battles, but his images were reflected in a thousand broken mirrors.
In a brilliant, long essay written about the painter, Nobel prizewinner Jean Paul Sartre declared Lapoujade the most important painter of our day. Such a reputation is an incalculable asset.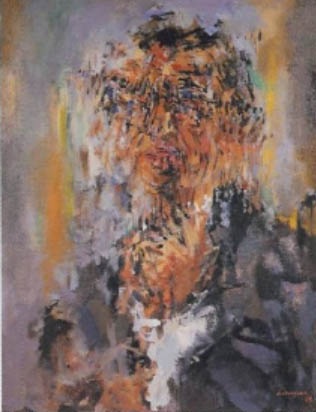 Robert Lapoujade,
Portrait of Jean Paul Sartre
(This essay was the most difficult thing I ever tried to translate from the French. There was a passage that proved extremely hard to understand and put into English. I labored over it for many hours until I finally arrived at what I thought Sartre might be saying. I was not pleased with my offering. Several years later the New York Philosophical Society published a book of four important Sartre essays. My essay was among them. Eagerly I searched to see how those scholars translated the passage. They hadn't! They merely eliminated it.)
Lapoujade made movies using a variant of animation: a small brushstroke, snap a picture, make another stroke, take the picture, and so on.
In 1968, his 90-minute film Socrates created long lines of fans eager to see it. The film won a special Jury Prize at the Venice Art Festival.
Lapoujade made other films, won more honors, and influenced young artists by serving as a professor in several national schools of art, including the prestigious School of Decorative Arts in Paris.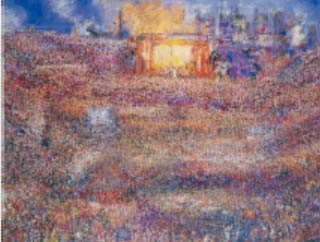 Robert Lapoujade,
Roc à Philadelphie
, (appears to be a rock concert, very large crowd)
Lapoujade and his beautiful wife and model Catherine went on vacation to Greece. Along the way they were befriended by a family of peasants, who graciously pulled out all stops to make the visitors welcome. Unfortunately their cooking was not as good as their hearts, and the copious meal was not easy for the French friends to eat.
When the feast was finally finished, everyone relaxed in a false sense of well-being, which soon exploded. Mama and papa brought out a baby. They had dressed him in his best and put a Baby Caspar spit curl in his hair.
"We like you to paid our son!"
Of course, the kind of painting they wanted was nothing like the unsentimental stuff Lapoujade painted. Yet he could not refuse — nor could he let himself be identified over a piece of pancake syrup.
So he did a sentimental little portrait. And since the farmers had never been very clear about his name, he signed it "Lapipode," which rhymes with "the pea pod."
Somewhere in Thessalonika today a Greek family unknowingly owns an original Lapoujade done in a style of which it is the only one of its kind in the world. Lapoujade hoped they would never find out.
By now the painting probably has been passed on to grandchildren as a precious family relic.