Some people who think artists are temperamental (or any other conflicting character manifestation) look for explanations in genealogy.
Find an artist with conflicts in his/her heredity, they say, and you'll find the makings of a great, turbulent artist. The idea is mostly hokum, but some examples are worth considering.
Take the case of Antonio Guansé (b.1926), whose military experience we touched on in last week's "Moments in Art." Guansé has been touted as an heir apparent to the Franco-Spanish mantle of Picasso and Miro.
Guansé's father gave him the Catalan's scornful distaste for authority, which tends towards anarchism and a dogmatic need for liberty. On a large scale, this is seen in the struggle for Barcelona to have more independence from Madrid.
Guansé's mother, on the other hand, was Aragonese, a Spanish strain noted for contemplation and adaptation to realities.
The vigor of Guansé's oils indicate that the Catalan is winning.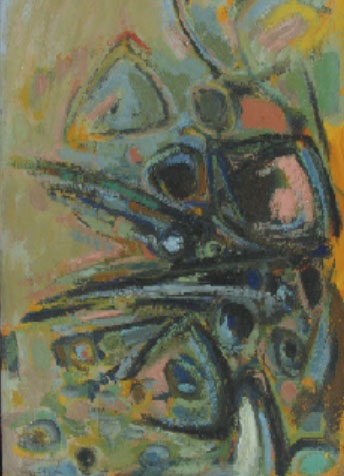 Antonio Guansé,
Earth, Water, Sky,
small oil, ca. 1960
Christianne d'Estienne (1915-1983) was one of the few women to be made a Chevalier in France's coveted Order of Arts and Letters. Her fine etchings have been exhibited in museums all over the world, and she has won many medals and honors.

In our conversations, Madame d'Estienne was quick to emphasize her own inherited character struggles. Her father was of Flemish descent. Professionally he belonged to France's elite government cadre, the Polytechnicians. He was an historian, mathematician, and musician. His influence on Christianne was, she says, "clearly Nordic."
Her mother, who came from the Avignon region of Southern France, was just as clearly Latin. As a result, Christianne found both forces in her art–cool, rational intellectuality from the north and warm, gesticulating exuberance from the south.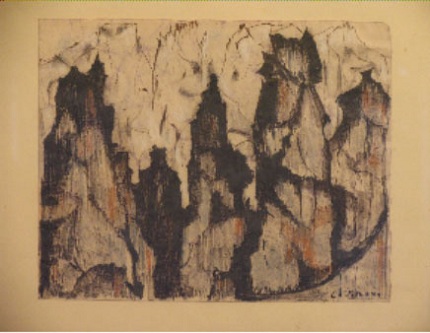 Christianne d'Estienne,
Dolomites
(Dolomite Mountain Crags), etching
The late Arnold Friberg (1913-2010) is known to many of us because of his powerful illustrations for The Book of Mormon, although that was only a tiny portion of his voluminous output.
Arnold's father was from Sweden, his mother from Norway (exactly the same as my great grandparents). I discovered in my northern travels that the Norwegians and Danes do not like the Swedes very much, shadows of ages-ago conflicts. I found the Norwegians to be reserved, almost taciturn. If you ask a question, you get a very compact, direct answer that comes without the volunteered information that might make your quest easier. The Swedes seemed more open, voluble. On that unscientific basis, I would find Arnold's work more Swedish.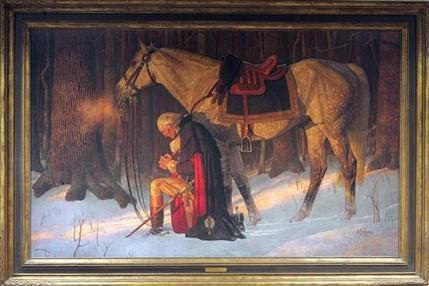 The Prayer at Valley Forge
is the Arnold Friberg painting most familiar to non-Latter-day Saints.
Several years ago, President Thomas S. Monson was sealing a couple in the Salt Lake Temple. My wife and I were there, guests of the bride. The mother of the bride came from Italian stonecutters who settled in Vermont. President Monson is Scandinavian. Cautioning the bride and groom that they came from different traditions and would need to learn how to adapt, he offered this parable:
A Scandinavian is walking on a sidewalk and sees there is a party going on a few doors down on his side of the street. He has not been invited. Not wishing to intrude, he crosses the street and walks along on the other side.
An Italian walks along the street. He sees there is a party. He has not been invited. He does not cross the street. When he gets to the party, he goes in to join the festivities.
(Church members beware. This was a simple parable, not a doctrinal statement.)
An artist is a product of many forces. Powerful among them are the genes that make him/her in many different ways. Artistic gift is just that, a gift that either pops out spontaneously at the beginning or is discovered in the suite of experiences. More people live on the planet than ever before. Just on statistics, we should expect to discover the world has more good artists today than it has ever had in the past.