Jean Lurçat (1892-1966) left a legacy few artists equal. He gave the world modern tapestry, a resuscitated artform that may well stand, decades hence, as France's most enduring mid-20th-Century contribution to art.
There were other important pioneers in this rebirth, but by his unrelenting proselyting and self-promotion, he ascended to historical dominance. Beginning in the hidden shrouds of World War II, he encouraged dozens of painters to turn from easel painting exclusively to an art that required a collaboration of artist, dyemasters, and loom magicians. He urged them on, and some followed, but when it came to competing for commissions and glory, he often ate his young.
We became collaborators but never close friends. I remember well an evening spent in a Paris restaurant with him, two women who together in the Galérie La Demure were the most important tapestry dealers in the world, and a half dozen other notable pioneer cartonniers of this renaissance. I was their key to the American market and museums. It was a heady experience, and somewhere I have a tattered menu they all autographed with commentary for my souvenir.
No cartonnier (tapestry creator) ever equaled Lurçat's fabulous output, but a number surpassed him in innovation and the lasting quality of their art. Nonetheless, his La Chant du Monde (The World's Song), a suite of large related depictions of his extravagant visual world, stand as one of the most voluminous tapestry outpourings of all time. The complete group can be seen in a museum named after him, but dedicated to all modern French tapestries, in Angers, France.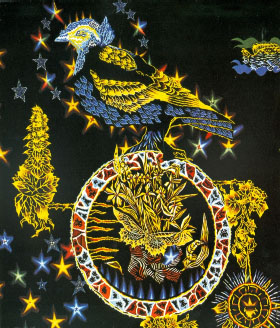 Jean Lurçat,
Man in Glory and Peace
, one of the smaller, less macabre tapestries from the monumental suite
La Chant du Monde.
Lurçat's romance with tapestry started with World War I. A soldier, he was wounded and sent home to heal. Bored, he began to embroider a piece of canvas, trying to reproduce a small watercolor. After much ripping out and starting over, he finished it unsatisfactorily three months later. So, giving up on the tapestry idea, for the next two decades he became relatively famous as an easel painter.
Finally, in 1933, a weaver reproduced one of Lurçat's paintings as a tapestry. This was followed by several others, but each tapestry was a reproduction of an existing painting and not a work of art in itself, which would require an expertise in the limits and possibilities of wool and the loom.
Then, in 1937, a young weaver from the village of Aubusson, François Tabard, whose workshop had been handed down father-to-son since 1637, asked Lurçat to do a cartoon - a design created uniquely for a handwoven tapestry. And Lurçat did. Although Lurçat was not satisfied with it, this was in reality, Lurçat and Tabard claimed, the world's first modern tapestry created as a piece of art in and of itself.
Ironically, this tapestry, which stands historically as such an important piece of French art, does not hang in France. It was purchased almost immediately by a museum in Worcester, Massachusetts, which was quicker to recognize genius.
In 1939, the French government's Ministry of National Education, eager to rescue a decadent, moribund craft and its economy, commissioned Lurçat and two other artists, Marcel Gromaire (1892-1971) and Pierre Dubreuil (1891-1970) to take residence in Aubusson and begin creating new tapestries from scratch. They went - and two brutal wars broke out. The first pitted the three artists against the traditional and rut-running weavers. The second was World War II.
Aubusson, isolated in the mountains, remained momentarily unoccupied, and a large number of fleeing artists gravitated to the village and were caught up in Lurçat's enthusiasm and the nascent tapestry movement. They were quite hidden from outside eyes. A few of the tapestries, such as Théseus and the Minotaur by Marc Saint-Saëns (1903-1979), were covertly very anti-Nazi, but that's a different story, for later.
With Liberation came public exhibits that astounded the world. And the movement Lurçat and others had launched under cover of war was only the start of what became a great and exciting esthetic explosion, which I wrote about in my prize-winning book Murals of Wool (1960).