It's springtime in Virginia, which means you can open the windows and enjoy the sounds of spring - chirping birds, laughing children, growling lawn mowers, and pulsing power washers.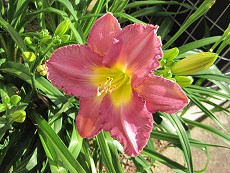 One harbinger of spring is this daylily, which the deer somehow forgot to eat.
I bought my husband Fluffy a power washer a few years ago as a Christmas present. It sits in the basement for all of the winter, but then comes out each spring to try and reverse the effects of the elements on our house and property. It is good for getting rid of ground-in dirt, as well as the green algae that tends to grow on the shady side of the house.
This spring as Fluffy was removing the algae, he noticed that the sidewalk running along that side of the house had also accumulated quite a bit of grime. In fact, it was black in color rather than the typical brownish-white we associate with sidewalks. So he trained his trusty power washer on the sidewalk, and has been working on that for the past several Saturdays. It is amazing to see the difference between the freshly washed sidewalk and the unwashed portion. What a contrast!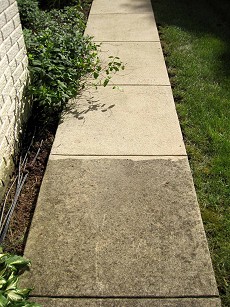 All it takes is some water and Fluffy's elbow grease to make an old sidewalk clean again.
This got me thinking about how power washing relates to my life (you know that a good hack writer can associate any trivial event with something profound!). Sometimes sin and bad habits accumulate on our souls so gradually that we do not fully realize how soiled we have become. Sometimes we don't realize this until we look at others, or perhaps we look back at ourselves at an earlier (and happier) time in our lives. When we finally realize our fallen state, we realize that it might be time for some spiritual power washing.
Fortunately, our spiritual power washer comes in the form of repentance, and there is very little that it will not remove. This does not mean that effort is not involved. Some of the darkest stains may require a lot of time and a lot of work, but renewing us to our former state can be done. As Isaiah reminded us:
"Come now, and let us reason together, saith the Lord: though your sins be as scarlet, they shall be as white as snow; though they be red like crimson, they shall be as wool." (Isaiah 1:18).
Another interesting parallel to me is that power washers do all of their work using just compressed water (there is an attachment that allows the use of soap, but Fluffy has never found the need to use that). Similarly, the water of baptism is all this is required to obtain the gift of repentance and other spiritual gifts.
It is not complicated. It does not have to be purchased for a small fortune. You do not have to have an advanced degree to understand how it works. It just requires faith, humility, patience, and a determination to do our best every day.
So I am happy that spring has arrived here in Virginia. It reminds me that the best gifts in life are available to everyone, and that the price is affordable to all.